Happy Feet was inspired by an event done at UCLA by a group of medical students, dedicating their time and skills to provide homeless men and women in Los Angeles with podiatric care. Due to the difficult lifestyle of homelessness, the need for this care in inner city Detroit was noticed by HUDA Clinic. A homeless person might go days, if not weeks without taking off their shoes. Moreover, a homeless person with diabetes is already prone to a plethora of problems related to blood circulation in their feet, and thus much more likely to require amputation. In Detroit, the problem of severe weather in the winter heightens their risk for foot related diseases and ailments even further. These factors combine to express a dire need for podiatric care in the city.
While this began with the mission of giving podiatric services, a larger potential for the event was quickly realized by the community of Detroit. Through combining with the right institutions, HUDA Clinic was able to service much more than just the podiatric needs of their clients!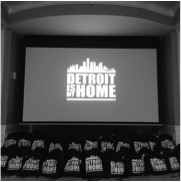 Detroit is My Home was the first non-profit organization to step up for a collaboration. Their 'Make an ImPACKt' project was able to contribute to the event by giving each homeless person a free personal care kit. Each kit included an emergency blanket, a metrocard, clean clothes, supplies for PB&J sandwiches, and a list for further sources of support. With this new addition to the mission, HUDA Clinic broadened their care to include basic health screenings. Instead of exclusively podiatric care, it would now include BMI, Height, Weight, Blood Pressure, Glucose, and Visual Acuity. This would provide more wholesome care for HUDA's clients.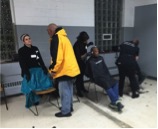 Next, taking the mission even further, another organization stepped up to provide haircuts for the homeless clients. Katie Gradowski from Paul Mitchell Schools Michigan brought up the opportunity to partner up.They are passionate about providing free haircuts to those who need it, and had been a great partner for HUDA Clinic in the past.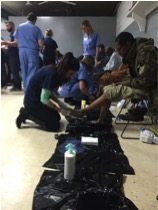 With the help of other organizations and individuals, we were able to get donations, supplies, and volunteers. World Medical Relief provided over a hundred blankets to give away. Henry Schein & Nadia's Pharmacy in Dearborn, among others, were charitable donors for the project. With an incredible array of services and supplies we were now able to provide, one essential aspect was still amiss. Project Happy Feet still remained without a venue to host it. With the incredible support of Detroit Rescue Mission Ministries, HUDA Clinic finally had a place to host this event. Their shelter cares for 100-200 homeless individuals on any given night. Chris Townsend who runs the shelter, was able to provide us with two enormous rooms to host our volunteers and clients.
The day of the event itself was a marvelous success. Volunteers ranged from medical students from Oakland University and Michigan State University College of Osteopathic Medicine, to registered nurses, to undergraduate students, to podiatry residents from Henry Ford; they all made their way out during a snow storm to come support Project Happy Feet. By the end of the night over seventy homeless men and women received foot washes, podiatric check ups, haircuts, general check ups, and care kits. Furthermore, HUDA Clinic also succeeded in bringing media and viral attention to the lack of medical attention and resources given to the homeless people of the Detroit community.
Project Happy Feet - A HUDA Clinic Event to Help the Homeless of Detroit