Announcements
3/15/2023: Leaders Advancing and Helping Communities (LAHC) Flyer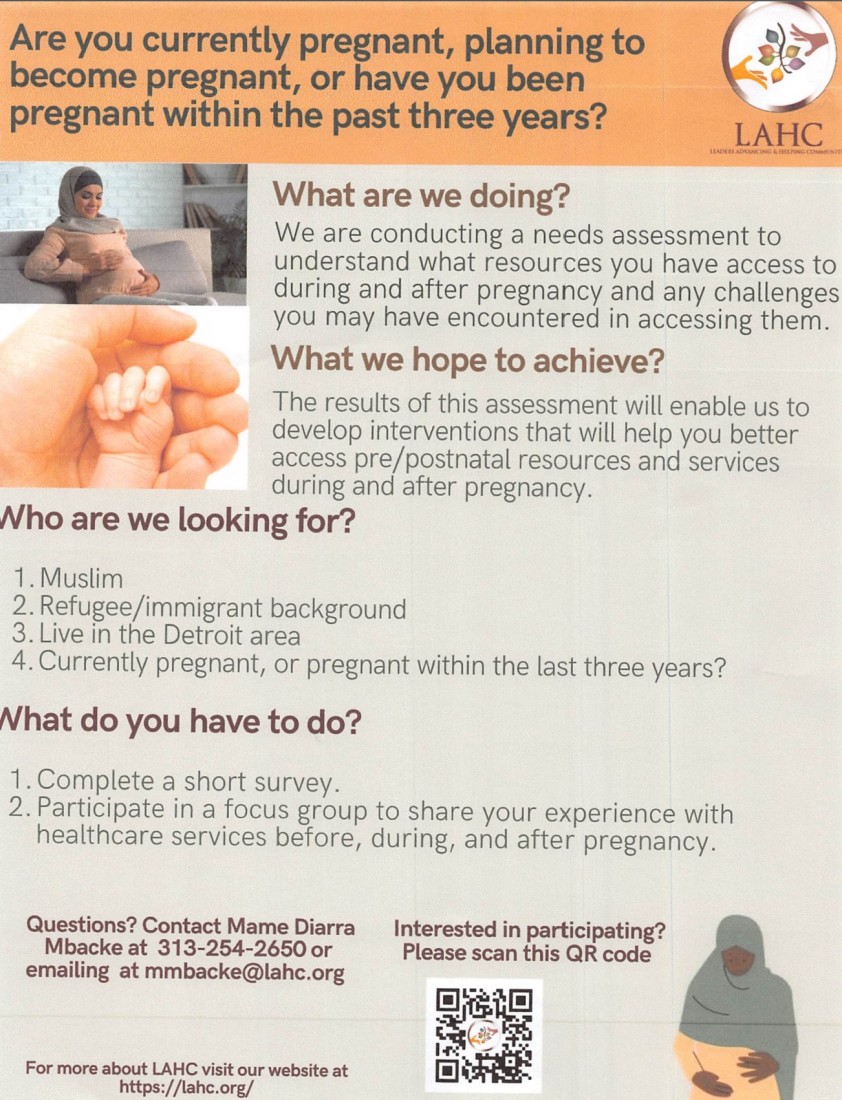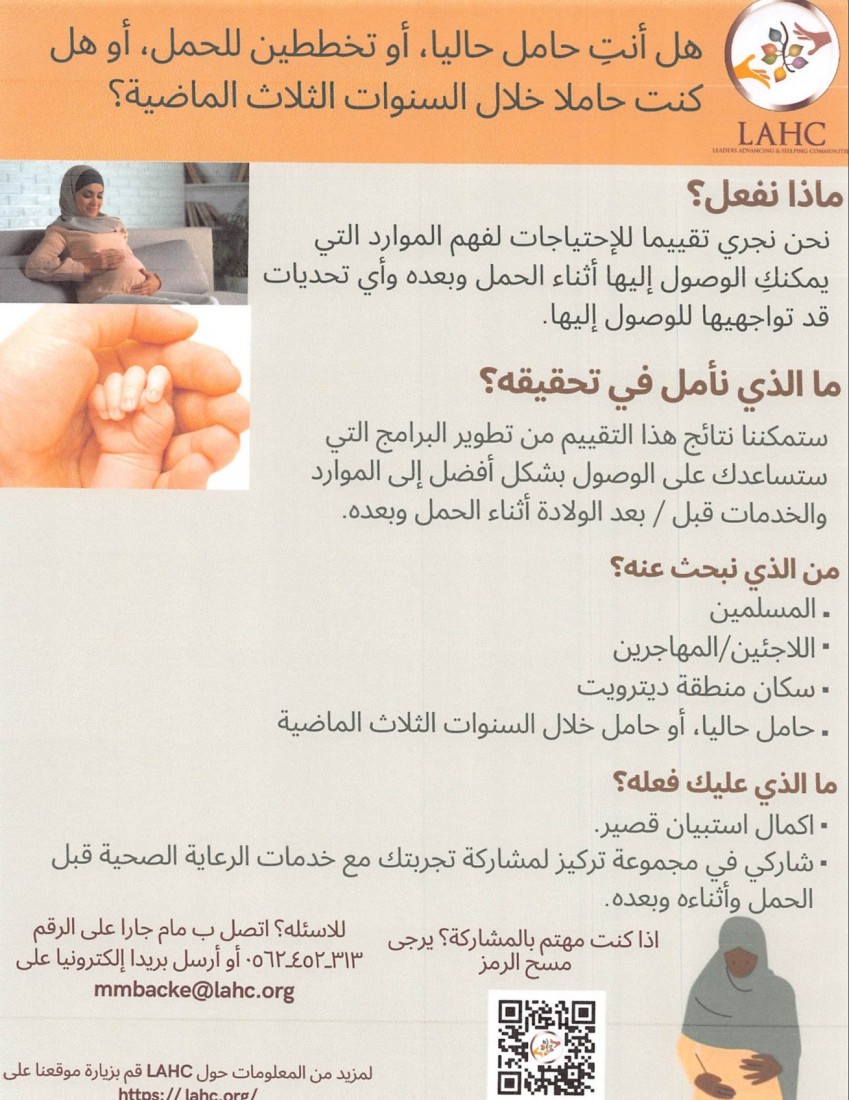 3/04/2023: THE HUDA CLINIC WILL BE CLOSED SATURDAY, MARCH 4TH, 2023, PER CLINIC POLICY.
2/22/2023: THE HUDA CLINIC WILL BE CLOSED THURSDAY, FEBRUARY 23RD, 2023, PER CLINIC POLICY.
2/20/2023: Michigan provides Medicaid enrollees with information about options as eligibility requirements restart following recent federal legislation
Link to full article: Medicaid Press Release.pdf
Eligibility redetermination packets to start being mailed to beneficiaries depending on renewal date
LANSING, Mich. – Medicaid beneficiaries will have to renew their coverage this year, starting in June, as Michigan resumes Medicaid eligibility redeterminations to comply with federal legislation.
During the federal COVID-19 Public Health Emergency, Congress enacted the Families First Coronavirus Response Act that required state Medicaid agencies continue health care coverage for all medical assistance programs, even if someone's eligibility changed. Michigan's Medicaid caseload grew by more than 700,000 people during the public health emergency. This requirement was ended by thefederal Consolidated Appropriations Act of 2023signed Dec. 29, 2022.
Michiganders who no longer qualify for Medicaid will receive additional information about other affordable health coverage options available, including on HealthCare.gov. Affected Michiganders will be able to shop for and enroll in comprehensive health insurance as they transition away from Medicaid, and many Michiganders can purchase a plan for less than $10 per month.
Renewals for traditional Medicaid and the Healthy Michigan Plan will take place monthly starting in June 2023 and run through May 2024. Monthly renewal notices will be sent three months prior to a beneficiaries' renewal date starting with June renewal dates. Beneficiaries can check their renewal month at www.michigan.gov/MIBridges.
"MDHHS is strongly committed to ensuring Michiganders who are eligible for Medicaid coverage remain enrolled," said Elizabeth Hertel, Michigan Department of Health and Human Services director. "More than three million Michiganders, including one million Healthy Michigan enrollees, have benefitted from keeping their Medicaid coverage without redeterminations on eligibility during the COVID-19 pandemic. MDHHS is preparing to assist residents who will be affected by changes in their coverage."
Here is what Michigan Medicaid beneficiaries need to do to prepare:
Make sure your address, phone number and email address are up to date at

www.michigan.gov/MIBridges

. You can also call your

local MDHHS office

. If you do not have an online account for MI Bridges to access your Medicaid case or report changes, visit

www.michigan.gov/MIBridges

to sign up for an account. You can also locate organizations that can help you by

searching for community partners

.

Report any changes to your household or income. You can report changes atwww.michigan.gov/MIBridges

or by calling your

local MDHHS office

.

If you get a renewal packet, be sure to fill it out, sign the forms and return it by the due date with any proof needed.NOTE:If you do not complete and return the renewal, you may lose Medicaid coverage.
"The Michigan Department of Insurance and Financial Services (DIFS) is committed to working with MDHHS and our partners nationwide to help impacted Michiganders get the affordable, comprehensive health insurance they need," said DIFS Director Anita Fox. "DIFS stands ready to answer questions about purchasing a health insurance plan. Call DIFS at 877-999-6442, Monday through Friday from 8 a.m. to 5 p.m. or visit Michigan.gov/HealthInsurance to learn more."
To ensure beneficiaries are aware of upcoming federal redetermination requirements and help them keep their coverage if eligible, MDHHS is launching a multi-media advertising campaign. This will include radio, audio streaming, outdoor, mobile and social media ads, including minority media outlets and stakeholder communications.
More information about the how benefits connected to the COVID-19 Public Health Emergency are changing can be found at www.Michigan.gov/2023BenefitChanges.
1/26/2023: THE HUDA CLINIC WILL BE CLOSED THURSDAY, JANUARY 26TH, 2023, PER CLINIC POLICY.
1/24/2023: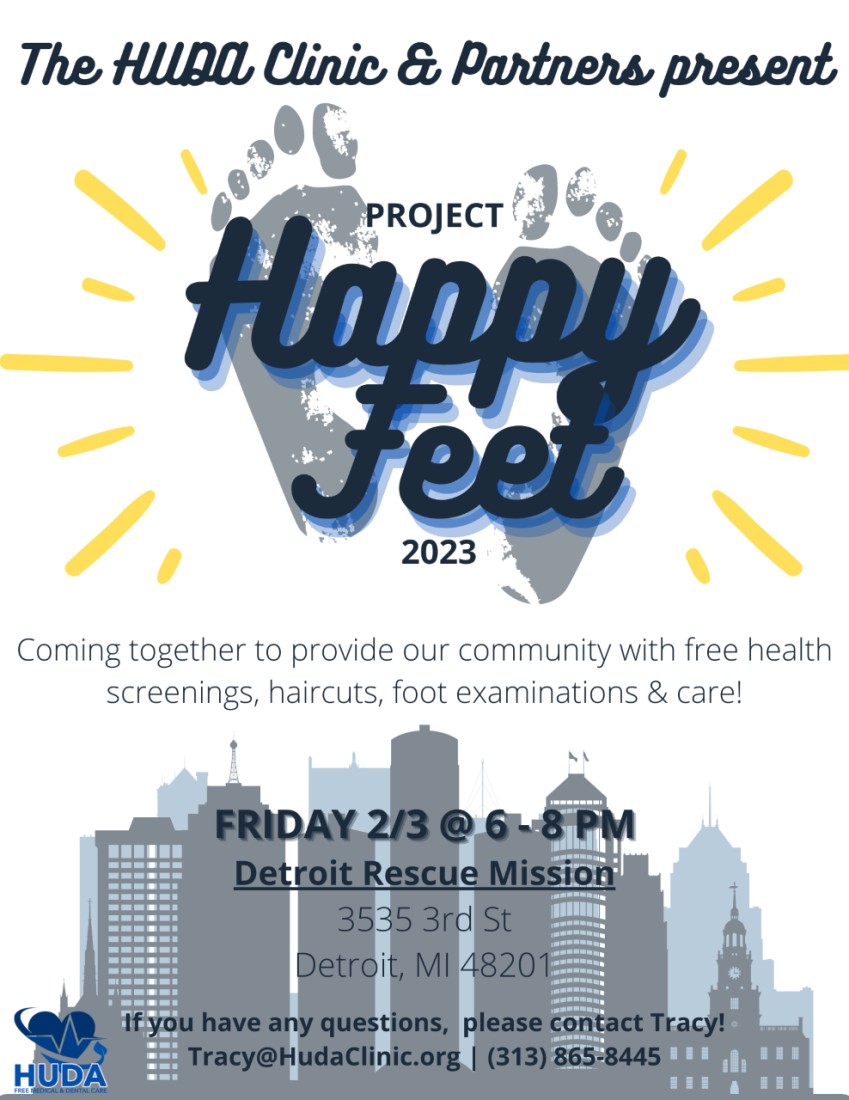 1/15/2023: HUDA Clinic will be accepting clean blankets, new Twin XL sheet sets, new socks and travel size cleaning supplies (Lysol wipes, spray, hand sanitizer, moist towelettes), gift cards, personal sanitary kits for distribution at Detroit Rescue Mission now through February 2.
12/1/2022: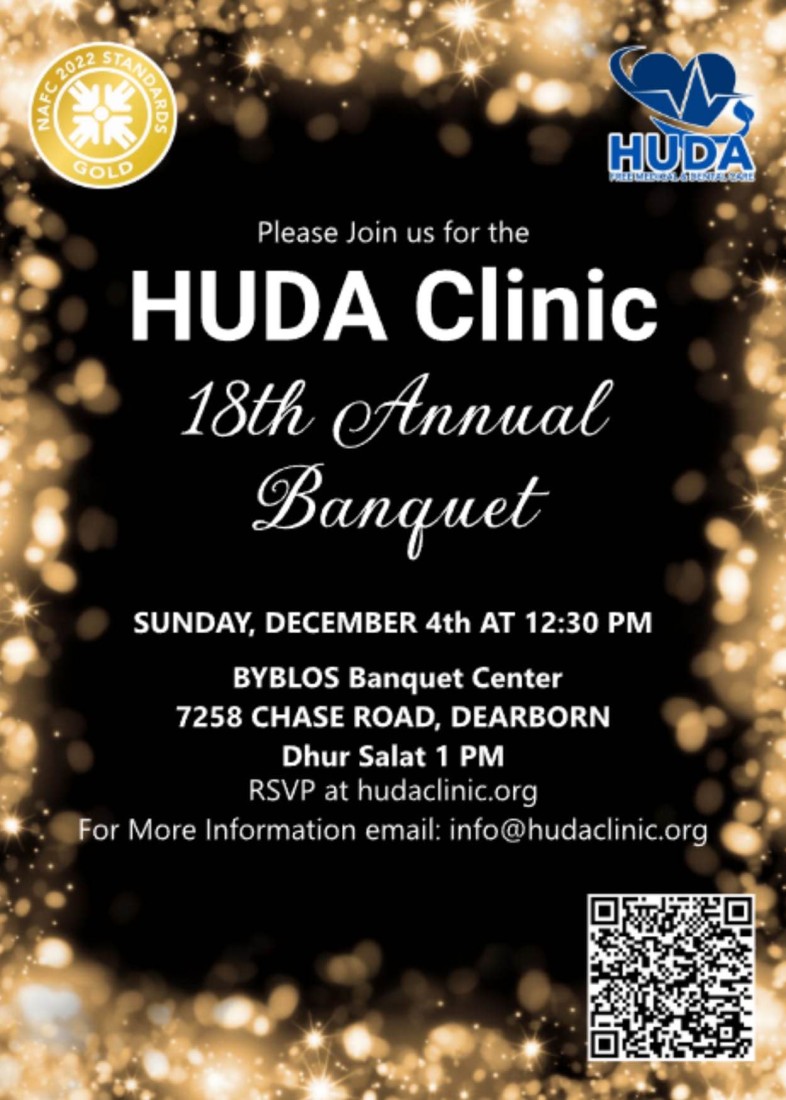 Check for HUDA Events, Closed Clinic Days, & Other HUDA Announcements
2022 Scheduled Holiday Closure Dates:
Saturday May 28, 2022 Memorial Weekend
Saturday July 2, 2022 4th of July holiday weekend
Saturday July 9, 2022 Eid Al Adah
Saturday Sept 3, 2022 Labor Day Weekend
Wednesday Nov 23 - Mon Nov 28, 2022 - Thanksgiving weekend/break
Saturday December 24, 2022 - Christmas Eve
Saturday December 31, 2022 - New Year's Eve
11/10/2022: HUDA clinic is partnering with Robert Woods Johnson Foundation for a research project! They are looking for research assistants to help with the study, specifically from the South East Michigan Muslim Community. Applications are due by November 15th, 2022. This is a paid opportunity!
Learn more here: https://www.ispu.org/work-with-us/research-assistant/
8/12/2022: Join HUDA Clinic on September 24th, 2022 for the Flu Shot Clinic! Reserve your spot to receive the flu shot on Saturday, September 24th, 2022 from 9 am to 1 pm! Call 313-865-8446 to make your appointment today.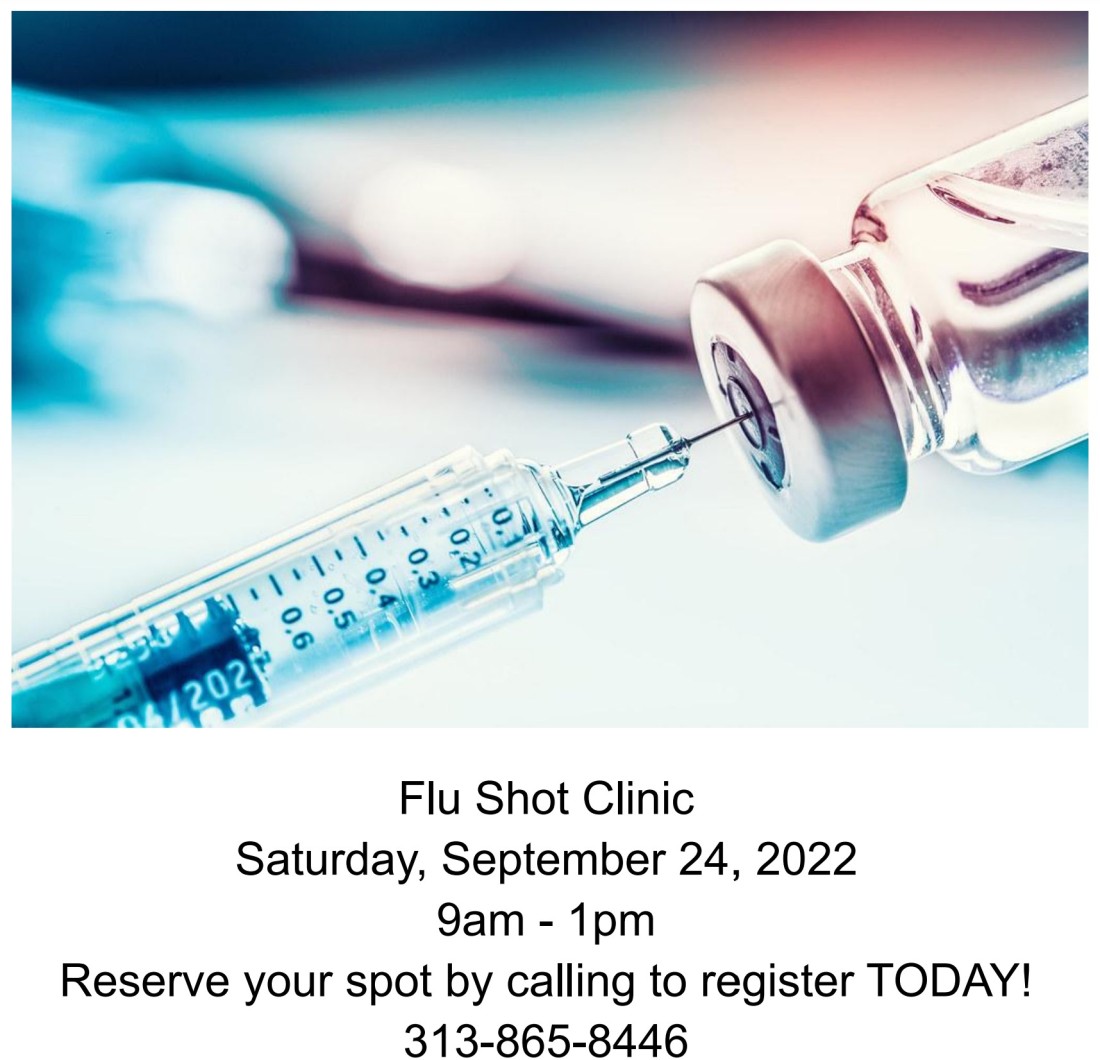 6/16/2022: Please join us every Tuesday & Thursday from 2pm - 5pm and Saturday 10am - 2pm in our HUDA Urban Garden! Open to volunteers of all ages and skill level.
For those interested in reserving times for team building or group volunteering please reach out to Tracy@Hudaclinic.org
4/21/2022: Now Scheduling appointments for our Quarterly MSU Family Medicine Residents' Afternoon Clinics!
Dates available:
Tuesday, July 12th, 2022 from 2pm to 7pm
Thursday, September 1st, 2022 from 2pm to 6pm
Thursday, December 1st, 2022 from 1pm to 4pm
3/13/2022: Quarterly Clinic with MSU CHM and Ascension Family Medicine on 3/23/22!
Join HUDA for the Quarterly Afternoon Clinic IN-PERSON on Wednesday March 23rd, 2022 from 1-5pm! This will be held with collaboration from Michigan State University College of Human Medicine as well as Ascension Family Medicine. This is a great way to arrange a visit before the start of Ramadan!
11/30/2020: Please support HUDA Clinic on Giving Tuesday
HUDA is a free healthcare clinic serving uninsured and underinsured adults in Detroit. We provide the widest range of free healthcare of any free clinic in metro-Detroit, including primary care, vision, dental, mental health, tests and lab work, medications and specialty care -- completely free with no co-pays or billings to Medicare or Medicaid.
Visit our donation page to donate now. All donations are tax deducible. Tax ID#: 37-1490937.
Please see our Giving Tuesday press release for more information about the clinic.

09/12/2020: FREE FLU SHOTS!!!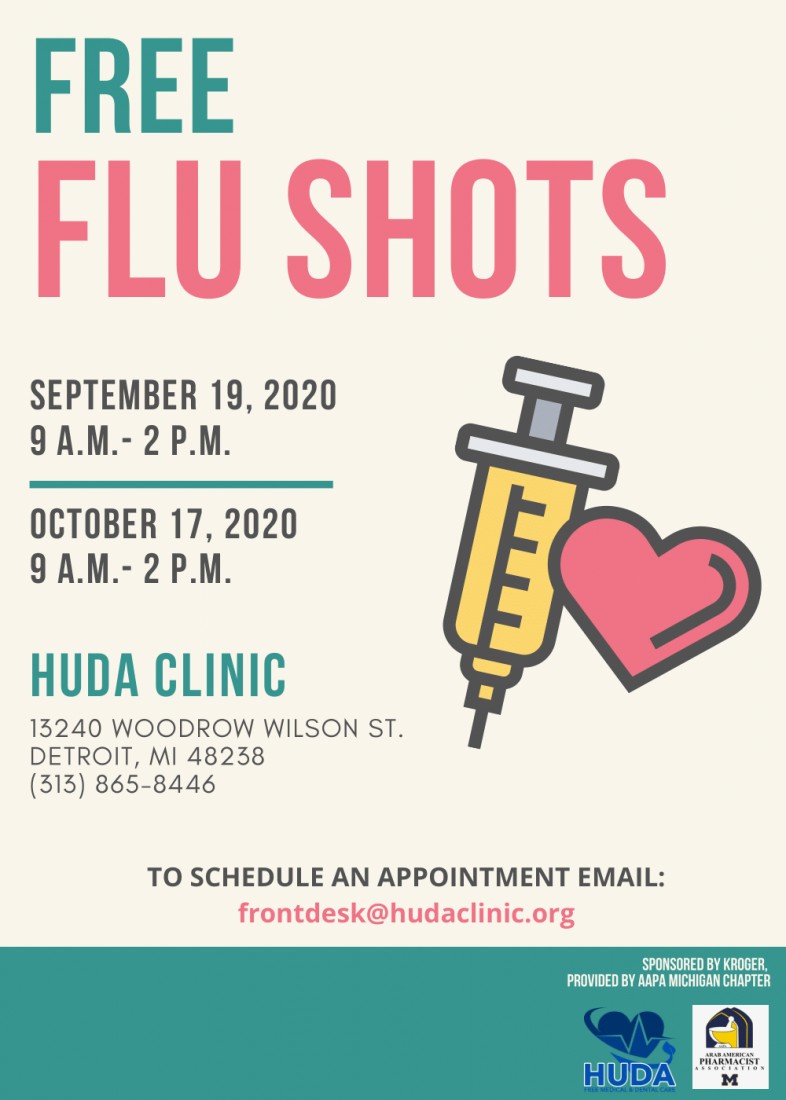 05/21/2020: FREE COVID-19 TESTING!!!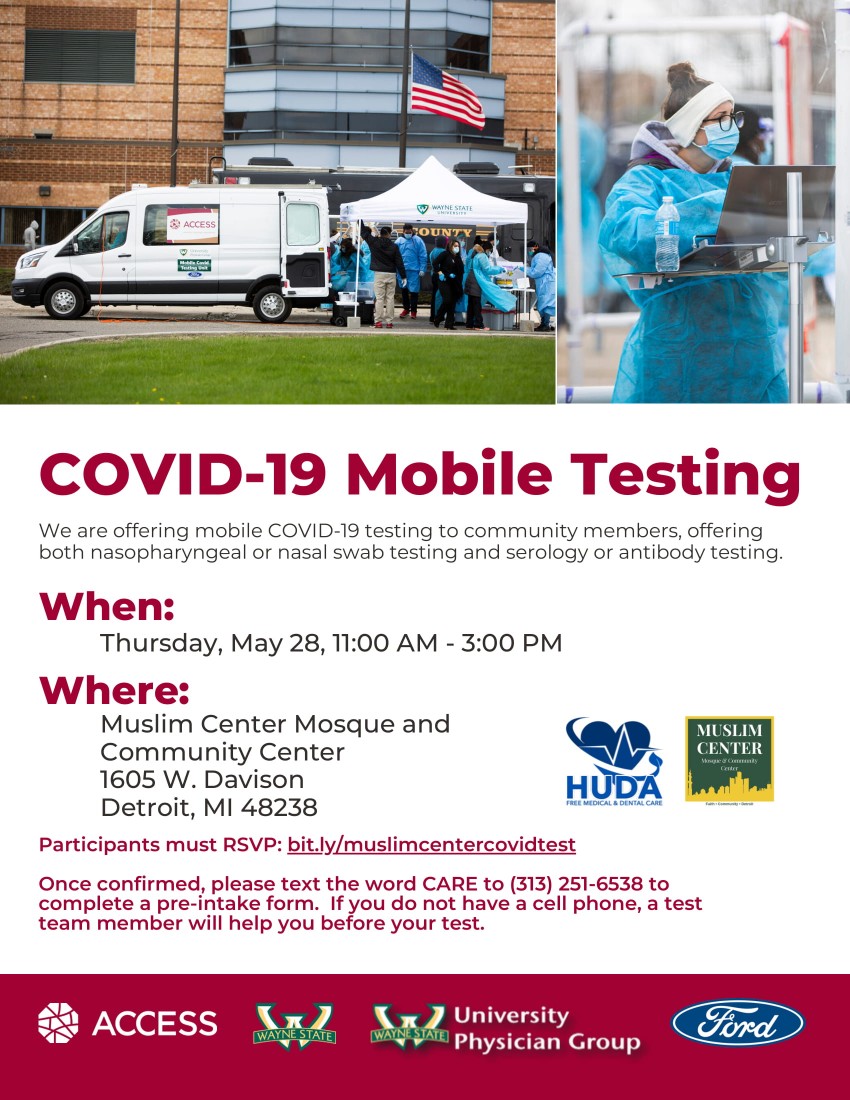 03/12/2020: Effective immediately; due to the COVID-19 (coronavirus) pandemic, the HUDA Clinic will be suspending regular operations until further notice. We are taking these necessary precautions to protect our patients, staff and volunteers.
We understand that over 1,200 patients call HUDA their medical home, so we will still be providing essential care to our existing patients through a screening process.
Following services are provided;
All medication refills will be honored.
Medical staff will screen all requests for care.
Walk-ins are discouraged with a signage.
Urgent medical care (non-emergency) will be provided to our patients
Non urgent care and specialty services will be rescheduled for future dates to be determined.
We will continue to evolve this policy as needed periodically.
We are following the recommendations from the Michigan Department of Health and Human Services (MDHHS) in formulating our policy.
All volunteer schedules are cancelled until further notice.
For any questions or concerns, feel free to email frontdesk@hudaclinic.org, or call our office during our regular clinic hours.
**When Detroit Public Schools Community District (DPSCD) closes due to the weather, HUDA's facility will also be closed.
02/25/2020: HUDA Clinic will be CLOSED on Wednesday, February 26th due to inclement weather. Stay safe!
12/12/2019: HUDA Clinic will be CLOSED on the following days in December; December 24th, 25th, 26th & January 1st, 2020. Happy Holidays! Stay warm & safe!
11/15/2019: HUDA Clinic will be CLOSED on the following days in November; Thursday, November 28th & Saturday, November 30th, We apologize for any inconvenience, Happy Thanksgiving!
08/05/2019: HUDA Clinic will be CLOSED on the following Saturdays in August; Saturday, August 10th, Saturday, August 24th, and Saturday, August 31st. We apologize for any inconvenience.
07/01/2019: HUDA Clinic will be CLOSED on Thursday, July 4th for Independence Day, stay safe everyone!
05/18/2019: HUDA Clinic will be CLOSED on Saturday, May 25th for the Memorial Day Weekend, and Tuesday, June 4th for the Eid Holiday!
02/24/2019: Join us for our 15th Annual Celebration of HUDA Clinic at our Luncheon Fundraiser on Sunday, April 14th, 2019 with guest speakers Congresswomen Rashida Tlaib, and State Representative Abdullah Hammoud! Please visit www.hudafundraiser.com for more details, hope to see you there!
01/28/2019: Due to inclement weather, the HUDA Clinic will have NO walk-in availability on Tuesday, January 29th, and we will be CLOSED on Wednesday, January 30th. Stay warm!
01/02/2019: HUDA Clinic will be hosting another FREE flu shot day on Saturday, January 5th 2019 from 9:00AM - 12:00PM! Please call our office at (313) 865-8446 to schedule you flu shot, it's never too late for you to get your flu shot! (Sponsored by Kroger)
12/15/2018: HUDA Clinic will be closed on Tuesday, December 25th, Wednesday, December 26th, and Tuesday, January 1st. Have a Happy Holidays & Safe New Years!
Proud Members in good standing with: