Announcements
Check for HUDA Events, Closed Clinic Days, & Other HUDA Announcements
11/30/2020: Please support HUDA Clinic on Giving Tuesday
HUDA is a free healthcare clinic serving uninsured and underinsured adults in Detroit. We provide the widest range of free healthcare of any free clinic in metro-Detroit, including primary care, vision, dental, mental health, tests and lab work, medications and specialty care -- completely free with no co-pays or billings to Medicare or Medicaid.
Visit our donation page to donate now. All donations are tax deducible. Tax ID#: 37-1490937.
Please see our Giving Tuesday press release for more information about the clinic.

09/12/2020: FREE FLU SHOTS!!!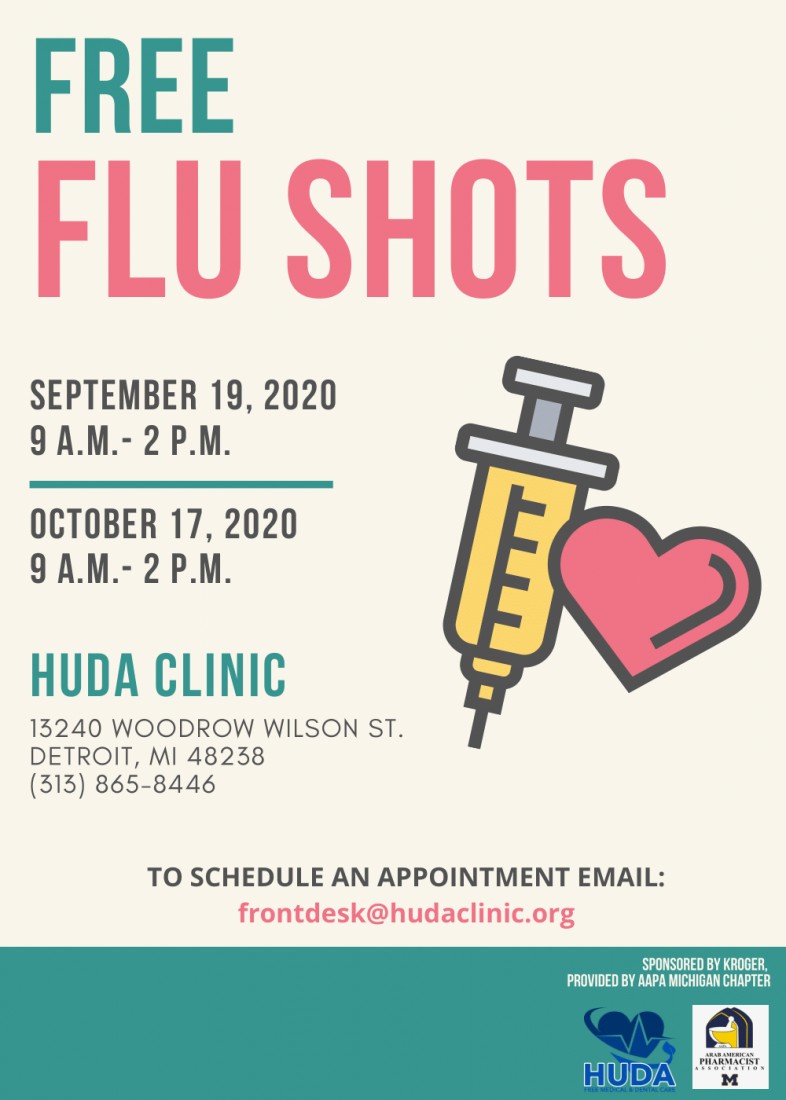 05/21/2020: FREE COVID-19 TESTING!!!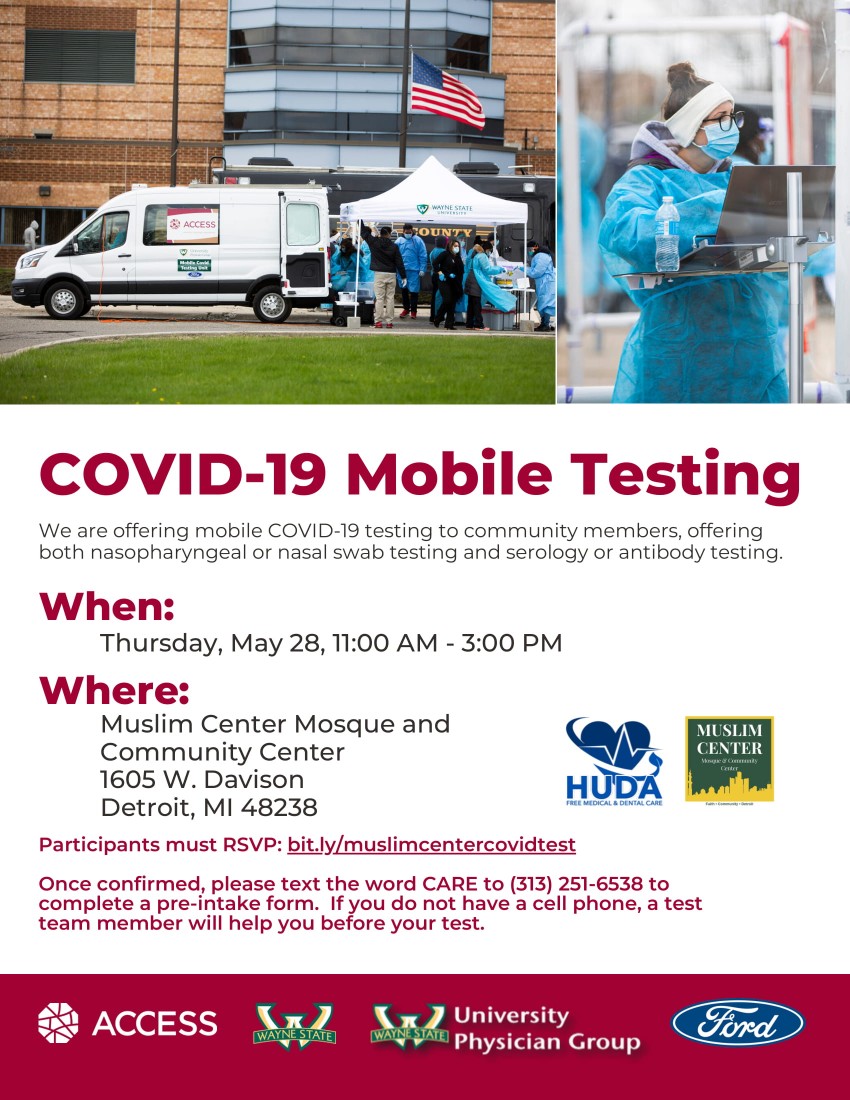 03/12/2020: Effective immediately; due to the COVID-19 (coronavirus) pandemic, the HUDA Clinic will be suspending regular operations until further notice. We are taking these necessary precautions to protect our patients, staff and volunteers.
We understand that over 1,200 patients call HUDA their medical home, so we will still be providing essential care to our existing patients through a screening process.
Following services are provided;
All medication refills will be honored.
Medical staff will screen all requests for care.
Walk-ins are discouraged with a signage.
Urgent medical care (non-emergency) will be provided to our patients
Non urgent care and specialty services will be rescheduled for future dates to be determined.
We will continue to evolve this policy as needed periodically.
We are following the recommendations from the Michigan Department of Health and Human Services (MDHHS) in formulating our policy.
All volunteer schedules are cancelled until further notice.
For any questions or concerns, feel free to email frontdesk@hudaclinic.org, or call our office during our regular clinic hours.
**When Detroit Public Schools Community District (DPSCD) closes due to the weather, HUDA's facility will also be closed.
02/25/2020: HUDA Clinic will be CLOSED on Wednesday, February 26th due to inclement weather. Stay safe!
12/12/2019: HUDA Clinic will be CLOSED on the following days in December; December 24th, 25th, 26th & January 1st, 2020. Happy Holidays! Stay warm & safe!
11/15/2019: HUDA Clinic will be CLOSED on the following days in November; Thursday, November 28th & Saturday, November 30th, We apologize for any inconvenience, Happy Thanksgiving!
08/05/2019: HUDA Clinic will be CLOSED on the following Saturdays in August; Saturday, August 10th, Saturday, August 24th, and Saturday, August 31st. We apologize for any inconvenience.
07/01/2019: HUDA Clinic will be CLOSED on Thursday, July 4th for Independence Day, stay safe everyone!
05/18/2019: HUDA Clinic will be CLOSED on Saturday, May 25th for the Memorial Day Weekend, and Tuesday, June 4th for the Eid Holiday!
02/24/2019: Join us for our 15th Annual Celebration of HUDA Clinic at our Luncheon Fundraiser on Sunday, April 14th, 2019 with guest speakers Congresswomen Rashida Tlaib, and State Representative Abdullah Hammoud! Please visit www.hudafundraiser.com for more details, hope to see you there!
01/28/2019: Due to inclement weather, the HUDA Clinic will have NO walk-in availability on Tuesday, January 29th, and we will be CLOSED on Wednesday, January 30th. Stay warm!
01/02/2019: HUDA Clinic will be hosting another FREE flu shot day on Saturday, January 5th 2019 from 9:00AM - 12:00PM! Please call our office at (313) 865-8446 to schedule you flu shot, it's never too late for you to get your flu shot! (Sponsored by Kroger)
12/15/2018: HUDA Clinic will be closed on Tuesday, December 25th, Wednesday, December 26th, and Tuesday, January 1st. Have a Happy Holidays & Safe New Years!