Donate
What will the HUDA Clinic do With Your Donation?
You Can Help HUDA Make Metro Detroit Healthier!
We could not do what we do without generous support from our community. It takes a great deal of financial support and manpower to offer the type of medical care, prescriptions, and resources we provide free of charge to our patients. In order for us to continue adding new services and building upon our growth in ways that can really transform people's lives, we really need your help. This fundraising site was created to spread awareness about the great work being done at our clinic and the impact HUDA Clinic has in our great city. Please consider supporting the HUDA Clinic as we move forward in our mission to serve others and improve lives in the city of Detroit.
AmazonSmile
By affiliating your Amazon account with HUDA Clinic's AmazonSmile link, every purchase you make will return a percentage of the profit back to HUDA clinic. This is a great way to keep supporting HUDA in our mission.
1. Open your web browser and type in the URL: "smile.amazon.com"
2. Sign-in if you are not already signed in.
3. Navigate to the top right corner of your browser where it shows your name. Hover the mouse and click on "Your Account".
4. Look beneath the heading "Shopping Programs and Rentals" and click on "Change Your Charity".
5. Find the search box below and type "HUDA Free Community Health Clinic" and click "Search" (or press enter.) There will be one result. Make sure it's "Detroit, MI". Click "Select".
6. Once you have selected that charity, you will be asked to confirm. Check the box and click "Start Shopping".
7. ALWAYS use smile.amazon.com when shopping and making purchases. A percentage of your sale will go directly to HUDA!
Amazon Wishlist
If you would like to support HUDA Clinic by sponsoring some of the equipment and tools that our interns and providers will be using, please refer to the Amazon Wishlist below for our immediate necessities!
HUDA Clinic's Amazon Wishlist!
Make a Donation
OR
Send a check made payable to:
HUDA Clinic
13240 Woodrow Wilson
Detroit MI 48238
---
With the proper funding, we hope to:
Construct additional exam rooms to allow us to offer more services
Continue to grow our Dental Clinic to one day accommodate the hundreds of patients on our waitlist.
Begin educational programs for patients as well as our students
Continue offering our services to the 1,500+ patients a year that rely on us for their healthcare needs!
---
Donate to the HUDA Clinic and Play a Vital Role in Healing the People of Metro Detroit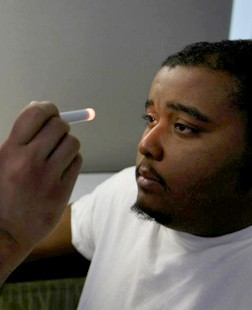 Our mission to help the people of our community is what unites and focuses our staff, board, and volunteers. Some of our patients are uninsured. Some are recent immigrants to the United States. Some patients are homeless. Others have an insurance plan but still cannot afford the co-pays required to get the medical attention they desperately need. The HUDA Clinic stands on the core belief of respect for what makes each person unique, and, therefore, everyone is welcome.
The HUDA Clinic achieves its goals through generous donations, physician volunteerism, and passionate student leadership. We are also well-connected in the community through partnerships with homeless shelters, non-profit organizations, religious groups, and the universities training Michigan's future health professionals. Nestled in a community in Northend of Detroit is a small medical facility called the Health Unit on Davison Avenue (HUDA Clinic), named after our original location. The HUDA Clinic has been providing medical care and prescription medications at no charge to uninsured and underinsured people in Detroit and the surrounding communities for over a decade. We have recently expanded to our new location at 13240 Woodrow Wilson St. Detroit, MI 48238.
---
HUDA Would like to Recognize Our Premier Donors
Donors who have donated $5,000 or more:
Mohammed Arsiwala
Seid Cosovic
Mohamed and Amal El-Ghoroury
Farah & Khurrum Iftikhar
Amin Jaffer
Mohammed J. Khan
Usman and Rukhsana Master
Mohammad Qazi
Wasim & Amina Rathur
Iman Rathur
Zubair Rathur
Quaid Saifee
Luay Sayed
Abubakar Sheikh
Kamran Sheikh
Ghiath Tayeb
Jukaku and Faiziya Tayeb
---
Why is HUDA Clinic Needed?
HUDA Clinic's role in the community is to cover the gaps in the current healthcare system. Besides serving those without insurance, many individuals who have insurance cannot afford their spend-downs or copays. Many others find themselves without proper guidance, resulting in them not being able to be seen by a physician for months at a time. The gaps in healthcare are still prevalent, and HUDA Clinic hopes to offer MORE to the community! We hope to expand our services to offer more of what our patients need!
HUDA Clinic offers FREE Health Services Including:
Primary Care
Pharmacy
Mental Health
Podiatry
Vision Care
And Dental Services
---
The Impact:
As of January of 2015, it is estimated that over 840,000 individuals in Michigan remain without health insurance, with over 100,000 residing in Detroit. Moreover, it is estimated that we have over 20,000 homeless individuals within the city of Detroit. Of those, 13% are veterans, 60% are families with children, and almost 50% have some form of mental illness. Just this year, HUDA has been able to improve the lives of over 1,500 patients so far in the clinic and through our outreach programs.
This year, HUDA Clinic was able able to provided medical services to over 200 homeless individuals, through our Happy Feet Project and our partnership with an event called PMTS4Change. We have been able to reach out to so many underserved individuals and families, providing medical screenings and health education. However, there are still tens of thousands of other uninsured, underinsured, and homeless individuals in the Detroit area who need our support, and countless other people who simply cannot afford the rising costs of medical care. At HUDA Clinic, we work daily to reach out to them and offer our assistance.
Proud Members in good standing with: