The 5th Annual Doctor's for a Day program will be May 13th. Stay tuned for more information! Sign up below!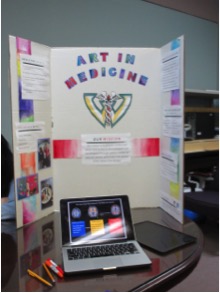 The HUDA Clinic is more than just a resource for the people of Detroit to attain health; it is a place where students are given the opportunity to peek into the field of medicine, the world of caring, and the art of healing. It was this fact, that HUDA is a place of education and inspiration for the future, that brought about Doctor for a Day.
Doctor for a Day is an event meant to excite inner city children not only about medicine, but the plethora of careers that are possible. In Detroit specifically, the graduation rates for high school are less than 65%. The goal of Doctor for a Day was that by teaching children not only about how to be healthy themselves, but by showing them the numerous possibilities and stirring a sense of eagerness to pursue one such possibility. Suiting up in white doctor's coats, the children walk amongst around 10 different stations on a variety of subjects. Headed by volunteers, each station aims to teach the kids about how their body works, and how they can improve their health. Of course, simply being told how your body functions isn't all that engaging, which is why interactive demonstrations let the kids not only listen about how their health could ebb and flow, but also let them see it before their own eyes.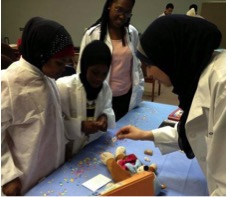 The Chronic Disease station allows kids to learn about hypertension, using balloons to mimic arteries. After a lesson and demonstration of high blood pressure, the kids grab onto these "arteries" and have fun tossing them around, having a water balloon fight outside. At the Germ Station, kids stare as the blacklight shining over their palms doesn't cause their skin to glow after they brush on some sanitizer to kill the "germs." Meanwhile, other children watch in wonderment as the volunteer slices open a cow's liver at the Organ Station. Elsewhere, kids are laughing wildly as an actor acts out a trauma injury and they, as professional junior doctors, have to give them medical care at the Trauma and First Aid Station. At the Muscle and Bone Station, kids construct their own models of how bones and muscles work together to allow coordination and movement. And at the Exercise Station, they put their own muscles to use in a friendly competition to make use of minimal equipment, using objects such as tires, to keep fit. Keeping with the idea of fitness, at the Nutrition station, kids learn how to take in the proper macronutrients and then expend them appropriately, much like dollars in an economy. And the theme of food continued at the Diabetes Station, where children learned how insulin worked in the body, and what sort of long term effects diabetes could have on the body. While these kids were presented with information about insulin, others brushed brown-stained eggs with toothpaste until they were pearly white at the Dental Station. And each year, an extra, different station is added, allowing the kids to learn about yet another aspect of medicine, and another avenue for potential careers. Within ten minutes at a station, the kids are not only educated in an aspect of medicine, but are also be engaged in it, understanding it as an important aspect to their life as well.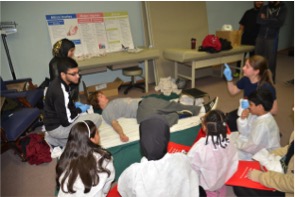 Doctor for a Day is one of the HUDA Clinic's most successful educative events. By giving children in the community the opportunity to explore career options, to become excited about choosing one at all, to cultivate an eagerness for success, to learn about how they can be healthier, and to understand various aspects of what it takes to be a good doctor, HUDA isn't simply creating doctors for a day. It is creating doctors for life.